I had the pleasure of attending the 75th Anniversary Celebration of the New Deal / Civilian Conservation Corps. The event was sponsored by the US Forest Service, Friends of Timberline, Mount Hood Cultural Center &Museum and RLK and Company (Timberline Lodge). The event started at the historic Zigzag Ranger Station.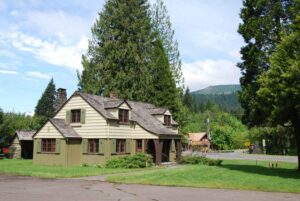 The event included talks by Rick McClure, Forest Archaeologist – Cristy Covington, USFS – Sarah Munro, historian and Jeff Jaqua, Zigzag Archaeologist that included a great PowerPoint Presentation and vintage film of the CCC days at Mount Hood. An excellent guided tour by Jeff Jaqua of the Forest Service was also well received.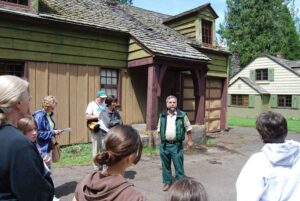 Part of the day included a the monument for the Zigzag CCC boys that included great conversation with Joe Bailey, an original Zigzag CCC'er, and then a stop at the Tollgate Campground in Rhododendron to view the CCC era log shelter. At that stop were representatives from the Fire Lookout club as well as Dave Rogers, a talented log builder that has worked on important Cascadian style historical restorations including the log shelter that was a part of the tour.
After that stop I headed to Government Camp to visit Lloyd Musser and the crew at the Mount Hood Cultural Center and Museum. They have a terrific CCC display down stairs. In the same area is a great display of a typical Mount Hood area forest fire lookout. Please stop in if you're ever in Government Camp.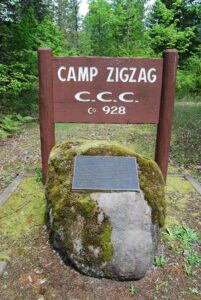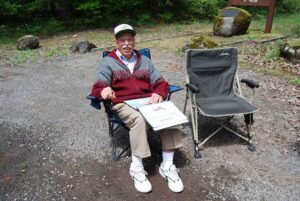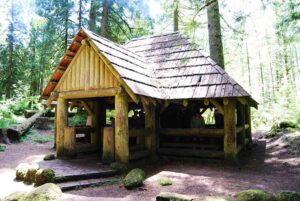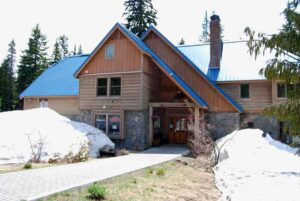 Then it was up the hill to Timberline Lodge. A slide show and another movie about the 3C's was shown and two CCC alumni gave a short talk describing their days back then. and then it was cake and punch. There were also tours of The Lodge.
A fun part of the celebration was a passport that they gave out which could be stamped with a special stamp at four of the stops along the way, the Ranger Station, the log shelter at Tollgate, the Mount Hood Cultural Center and Museum and Timberline Lodge. Printed on the back of the passport was a great short history of the New Deal, WPA and their involvement in the Mount Hood National Forest, written by Sarah Munro.
"The New Deal was launched in March 1933, shortly after President Delano Roosevelt took office. Among the first projects enacted was the Civilian Conservation Corps Reforestation Relief Act that authorized the CCC's. Within weeks, unemployed men between 18 and 25 were shipped to camps where, under the direction of army officers, they undertook soil conservation, reforestation, road construction and national park and flood control projects. In the Mount Hood National Forest, men in the 3C's were under the direction of the Forest Service. They built the road to Timberline (a leg from the existing road to the construction site), built the terraces at the Lodge, laid out the Timberline Trail that circumnavigated Mount Hood and excavated for the water lines to the Lodge.
The Works Progress Administration was launched under the emergency Relief Appropriation Act adopted in April 1935. It was under the WPA the Timberline Lodge was constructed. The hundreds of workers who labored over the summer of 1936 to frame in the structure were WPA workers under the direction of private contractors hired by the WPA to build the lodge. The stonemasons who built the stone facing were also WPA workers. The Lodge was decorated and furnished under the Federal Arts Project, one program of the WPA."
Written by Sarah Munro, 2008
The weather was great to boot. If you were there, you know it was well attended and all who organized it needs a big pat on the back! 🙂