Climbing Mt. Hood "Back in the day" – Today I thought that I would post a great story about a typical climb from the 1930's. I've been lucky to have been able to meet many historic figures, or their relatives since I started to pursue my interest in learning the history of Mt. Hood.
This story was forwarded to me through a conversation that I had with Anne Trussell (Harlow) from Sacramento, Ca. Anne is James Harlow's daughter.
I hope that you enjoy this story.
Gary =0)
James Harlow's journal entry and photos.
Saturday and Sunday, September 19-20, 1931
James Harlow, Curtis Ijames, Cecil Morris, Everett Darr, Dr. Bowles and Ole Lien
Ole came for awhile at noon, and we made definite plans for the climb up Mt. Hood over this weekend. Then I packed up and went over to Ole's where we were to meet the fellows from Camas with whom we were going up. They were due at 7:30 but didn't show up by 9:00 so we made arrangements to go up with Everett Darr and two of his friends. They came by after us by 10:30 and we started by 11:00 PM. Ole and I rode in the rumble seat. Everett's two friends were Cecil Morris and a fellow named Bowles, a doctor. The car, a Chevrolet Coupe, belonged to Cecil Morris. We were at Government Camp by 12:45 AM Sunday. We didn't stop at the hotel as Raffertys had gone to bed.
It was very foggy from Laurel Hill to Timberline but was mostly clear at Timberline with a 38-degree temperature. The mountain showed up white with a fresh coat of snow. We started on the climb about 3:00 AM with a fellow from Portland, Curtis Ijames by name, making a party of six.


We ran into snow a half mile above Timberline, and put on crampons half way to Triangle Moraine. The snow was well frozen and we hardly sunk in. There was a very heavy west wind and clouds were rapidly blowing across the mountian. The summit was obscured by the first streak of dawn. On Triangle Moraine there was probably an average of fourteen inches of snow piled into drifts, sometimes four or five feet deep. When the sun came up, we saw some beautiful cloud effects, the most wonderful colors I have ever seen.
When we got to Packs Rocks, we were in the fog and the wind tried its best to blow us off into White River Glacier. Upon reaching the first hot rocks, the wind was so hard we could barely move. At times, we just lay down in the snow and anchored ourselves with our ice axes. It wasn't bad going up on the Crater Rocks drift until we got on the top of it. Then the wind was so bad it took us ten minutes to go 100 feet. The snow was soft, making the going hard. It was foggy most of the time and ice froze on our clothes. It took us quite a while to go the last 1000 feet because of soft snow.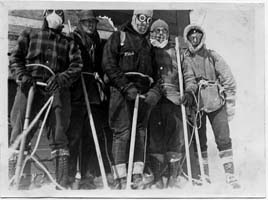 It cleared up before we got to the top of the Summit Ridge. We looked down on a sea of clouds below 8,000 or 9,000 feet on the south and west and scattered clouds on the north and east. Fleecy strings of fog were blowing across the summit with tremendous velocity. And the gusty wind was so strong as to be dangerous. The rocks were ice-covered and the going was very treacherous. The last 200 feet over to the cabin was terrible.
We finally got to the cabin and went in, as the door was unlocked. It was very cold and the fire we lit in the kerosene stove did little to warm things up. We had arrived at the cabin about 11:30, and stayed about an hour. The shack swayed, creaked, and groaned crazily in that wind. The noise was terrific. Leaving about 12:30, we got down the chute okay but got lost in the fog below Triangle Moraine. The snow had softened and made the going very tiresome in the three and four foot drifts.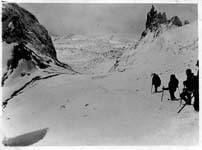 We finally got on the right path and got down to Timberline by 4:00 PM. Everett, trying to crank Cecil's car, which started hard, punctured the radiator. We got it started down the road and he could coast nearly all the way to Rhododendron. Ole and I rode into Portland with Curtis Ijames in his Model T Ford delivery. We stopped at Government Camp and got a bite to eat at Rafferty's so home by 7:30 PM, thus ending a great trip.